This is Lap Dancing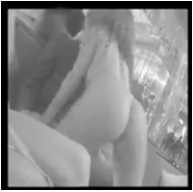 A lap dance is 'only' supposed to involve full nudity and exposed genitals. There is supposed to be a distance of 3 feet between performer and customer. But these rules are broken instantly because in reality, a standard dance means a young woman, stripped naked straddling a man and grinding on his crotch. A man can buy this for £20 or less (£10 is becoming the standard price, sometimes just £5).
Young women, in effect, have to prostitute themselves, in order to make any money whatsoever – because this is what customers expect and because of the financial stranglehold clubs have on women [forcing them to pay to work in clubs, give back a portion of takings (up to 50%), fines of up to £300 at every opportunity (like 'not smiling enough') and more].
As for 'strippers being loaded' well you do the maths. The only way to make good money is to provide the hand jobs and blow jobs that drunk, sexually aroused men expect in 'VIP' areas and private booths.
Harm for Women in Clubs
Providing sexual contact or sex acts is just the tip of the iceberg with harassment and even assault common place, alongside drugs, serious physical and sexual assault, underage dancers and trafficking. Pimps source foreign dancers in particular inside clubs and tout for customers outside.
The criminality of the industry has been exposed by over 2 dozen press reports, countless testimonies from women from the industry, research studies and clubs' own CCTV, Licensing and Court Hearings.
Harm to Women Outside Clubs
Clubs also create '
No Go Zones
' in their vicinity – where women feel, and frequently are, intimidated and harassed.
Harm in Wider Society
And the industry promotes unacceptable 'President Club' style attitudes in wider society. International treaties alongside countless studies have recognised for years that objectification and the porn/sex trade contribute to harmful attitudes in wider society. After all, isn't a nonsense to be *shocked* by The President's Club in a society that legitimises and glorifies strip clubs, where much worse happens? 
How Are Strip Clubs Licensed?
In 2005, the strip industry became totally de-regulated and clubs were licensed like cafes. Councils could do nothing to stop them setting up and, of course, the industry mushroomed uncontrollably.  But a high profile campaign by pressure group Object and The Fawcett Society led to a change in the law.
From 2011, new legislation was introduced which meant that Councils could license clubs as 'Sexual Entertainment Venues' (or SEVs). Most adopted this licensing. This gave Councils sweeping powers to refuse to license new clubs, to refuse to relicense existing clubs (with licenses having to be renewed annually) and meant they could set a policy that no clubs should be licensed at all.
But, whether through apathy, ignorance, bias or fear of the hugely powerful strip industry, many Councils are not properly enforcing their licensing rights or responsibilities. They are still not considering the impact on women's safety, let alone equality, and continue to license and re-license strip clubs, even in blatantly inappropriate locations or after extensive evidence of abuse and exploitation within and outside the clubs they license.
Strip Clubs = Anti-Equalities Law
A ground breaking precedent has now been set with not one but two successful legal challenges against Sheffield City Council. This highlights how all Councils are likely to be breaching equality law when licensing the strip industry.
Legally councils must try to eliminate harassment, discrimination and victimisation in all of its policies and licensing decisions. Yet this is the very definition of lap dancing and the culture it creates – with all attempts to regulate to prevent this proving futile. It is actually inconceivable that a Council can license the strip industry and not be in breach of equality law.
Strip Industry Slammed
In 2018, the Women and Equalities Committee report on Sexual Harassment  slammed the strip industry and called for clubs to be shut where there is any evidence of harm (well, there's already plenty of that).
What Do We Want?
 The harmful reality of lap dancing understood and widely recognised
 Clubs shut and Councils creating a 'zero policy' towards the industry
Club owners prosecuted, where appropriate, and assets seized
 Women supported out of the industry with practical, effective exit plans (funded by the industry via seized assets) 
What are We Doing?
We act as a hub of information, support and advice
We are working with local groups, including many branches of the local Women's Equality Party, to help raise concerns to individual Councils
We are working  with women from the industry to raise awareness and devise exit plans
We are lobbying the Home Office to issue new directives to Councils over the reality of the industry and Councils' rights and duties under licensing and equality law 
More