---
Government Strategy
Deadline 11:45pm
Fri 19th Feb
The Government is reviewing its strategy on Violence Against Women and Girls (VAWG). Tell them to recognise pornography and all forms of the sex industry as a type of violence against women and girls.
You can complete their online survey here
(and respond to a host of other issues such as sexual harassment, making misogyny a hate crime etc)
Or take 30 secs to send this pre-filled email
Either way, if you have experienced the harm of the sex trade please let the Government know
Like to Send Something Longer?
Click Here
Copy and paste the below and send to the Home Office here
…………………………………………………
re: The Government's Violence Against Women and Girls (VAWG) Strategy 2021-2024
Please ensure this Strategy recognises the porn and sex industries in all their forms from strip clubs, 'sugaring' and webcamming to escorting/massage parlours/brothels/street prostitution as a form of violence against women and girls.
Prostitution – exchanging sex or sexual acts for money or anything else (food, accommodation etc) – is sexual exploitation and abuse. It is psychologically deeply harmful for those in it and wider society, even if it  is 'freely' entered in to as an 'informed choice' and punters are 'never abusive' (which in reality is never the case).
Even the 'soft' ends of the sex trade (lap dancing, webcamming, sugaring) are deeply damaging, abusive and often violent.
The UK Government currently lags well behind many other UK bodies such as the Crown Prosecution Service, the Scottish Government and the Mayor of London ('Tackling Violence against Women and Girls' Strategy) who all already recognise prostitution as a form of violence against women and girls. Whilst both Northern Ireland and the Republic of Ireland have already passed legislation to this effect, as have many other nations across the globe – virtually eliminating trafficking and the sex trade. Other countries have additionally legislated to end lap dancing as a form of abuse against women (such as Iceland and Israel). Some nations, such as Thailand and Nepal have banned pornography as a clear violation of the rights of women and children.
Yet, rather than the UK Government taking any such measures, it has allowed our country to become a 'trafficking hub' for Romanian women. It is credit card companies that are taking the lead to end the abuse of porn ( by refusing payments to Pornhub). It is survivors  of brutal rape, mutilation, torture and child abuse who are taking Pornhub to court. It is Google that is banning ads for the sex trade. 
No price can be put on the human cost of the sex trade, but its monetary cost to the state runs to £ billions – every year (the costs of social care and of the widespread criminal activity it is linked to). By contrast, ending the sex trade by criminalising pimps, deterring punters (which is shockingly easily done) and supporting women to exit yields a 2:1 Return on Investment.
The porn and sex industries do not only harm those working in them, but incite violence against all women and girls. There is decades of research evidence showing the link with the consumption of porn and violence against women and girls. Recently, the Women and Equalities Committee reported that the acceptance of prostitution and LEGAL pornography directly correlates with the acceptance of sexual harassment. But the fact is such overwhelming evidence would not be required if we were talking about widespread abuse against any other group. Why aren't the same principles being applied to women and girls?
Your Strategy must explicitly recognise all forms of prostitution and all abusive/humiliation pornography (ie all porn) as violence against women and girls, harming both those in these industries and outside of them – a harm that cannot be mitigated through regulation.
It  must also recognise the social 'grooming' into these industries by the mass/social media/culture of objectification and through underage children accessing them (eg via non age restricted online porn). It must also recognise misogyny as a hate crime, including treating online hate/abuse/threat against women with the same gravity as racial abuse against football players.
Thank you
---
Past Actions
Click Here
---
For Scotland
Scotland is consulting on prostitution, on reducing demand, reducing harm and supporting exiting.
Please respond, no matter where you live.
It is especially important for SURVIVORS to respond if you can
See the full consultation paper here
It is a long consultation! But if you have:
– 10-15 Min. Copy and paste the answer to each question in our Template Response into the Consultation
– 2-5 Min. Simply respond to Que 1 (with the text below*) and/or add your own thoughts to Que 9 (Chapter 5)
-Make sure you fill in the 'About You' section (ensure you preserve your anonymity if needed), and then click Submit
………………………………………………
*Response to Que 1 (copy and paste the below into Que 1 – near the bottom of this page – then click 'Continue' at the bottom):
To reduce violence against women/girls in the sex industry and to all women/girls in wider society, the overarching aim must be full commitment to a comprehensive (and cost effective) 'exit and prevent' strategy on prostitution, backed at the highest level, rather than a 'harm reduction' approach:
This means:
-Seek to eradicate demand (surprisingly easy done)
-Heavily deter pimp/traffickers (prison sentences, assets seized to support prevention/exiting)
-Never penalise or criminalise in any way (eg via ASBOS, fines or criminal records for soliciting, loitering etc) those who sell sex & wipe all pre-existing criminal records
-Support those who sell sex with exiting and with long term post exiting support both in terms of mental health (survivor-led, trauma-informed) and practical (liaising with relevant agencies for exiting, support into work/training)
-Prevent entry through early intervention (including addressing poverty, prior/ongoing abuse, poor mental health and raising awareness of the huge harms of the industry)
-Prevent entry through zero tolerance to any aspect of the sex trade (strip clubs, escort agencies/massage parlours etc and online advertising of any aspect of it)
-Recognise that 'harm reduction' is actually 'harm promotion'. This cannot prevent entry, it allows the sex industry (which cannot be regulated) to massively expand; the illegal industry (trafficking, child rape prostitution etc) to flourish; makes it much harder for women to leave and much harder to receive appropriate support once exited. It creates 'no go' zones in prostitution areas for all women and girls. It promotes deeply harmful attitudes throughout society. This has been seen in every country that has enabled prostitution, including here in the UK (the Leeds 'Managed Zone'). It has been seen throughout the UK where the strip industry has been licensed and all attempts at regulation have failed comprehensively – with it clearly serving as a portal for organised crime, drugs, financial fraud, prostitution and trafficking.
-Any approach other than the Nordic Model is highly likely to be challengeable under UK equality law as a breach of the Public Sector Equality Duty. Under this all public bodies must pay due regard to the need to:  'eliminate harassment, discrimination and victimisation' of women by men and 'foster good relations' between the sexes.
-Recognise that the financial costs of the sex trade are extortionate (including the associated social care and criminal costs) compared to the cost of properly implemented exiting and prevention
-Recognise the harm of the sex trade to ALL, not just to those in it. Its presence, normalising and glamourising promotes deeply harmful belief systems to all girls and women and harmful, hyper macho stereotypes to men and boys – the very foundation of violence against women
-Only fund or work with individuals, NGOs and others who understand prostitution as inherently harmful, who recognise that those in the industry operate in denial as an essential survival mechanism and who are fully committed to a 'prevent and exit' approach.
-Ensure widespread public awareness, education and training of all stakeholders of the reality and harm of the porn/sex trades, including the media, schools and mainstream providers
---
Covid Support
In April, dozens of supporters write to their MPs, the Home Office and London Mayor to back calls by Sarah Champion MP, survivors, numerous front line service providers and others for urgent resources to support women out of the sex trade – clearly totally untenable for the 1-2 years that social distancing is likely to be in place.
Since then, the Government pledged £76 million to support the most vulnerable including victims of sexual abuse and modern day/sexual slavery. Sarah Champion is now calling on the DWP (a key point of contact for those in/at risk of the sex trade) for ring-fenced funding and co-ordination for exit services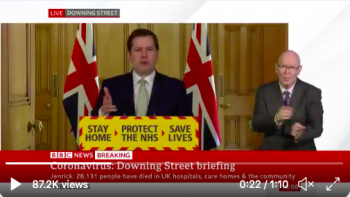 The Home Office Response [£millions available to support the vulnerable in prostitution]
The GLA's Response [being advised by a 'sex worker' advisory group, that uses the language of the sex trade lobby]
TAKE MORE ACTION
Write to them
You can also send it to:
Your MP/MSP/Welsh Assembly member (and, if in London ALL London Assembly Members) 

via

Write to Them  
Don't forget to confirm the email then sent to you by Write To Them
The Letter:
Corona Necessitates a total rethink of the sex trade
The move by the Home Office for considerable funding for the most vulnerable, including supporting women out of the sex trade is hugely welcome. However, not only is the sex trade already well known to be deeply abusive it is now totally untenable with social distancing likely for the next 1-2 years.
This means that, above and beyond immediate support for those in it, there clearly needs to be a radical re-think of the entire industry:
All action to support those used in the sex trade has to go hand-in-hand with shutting down the industry to prevent re-entry or future entry (either during the pandemic or afterwards). This means existing legislation against pimping, against brothel keeping and against punters buying sexual services from anyone who is coerced (essentially all those in the sex trade) has to, finally, be rigorously enforced.
Given the fact that up to 90% of 'Johns' would stop paying for sex if there were the threat of small fines, points off a driver's license, being 'named' as a buyer or being put on the sex offenders registry  – the demand for the industry could be effectively 'shut down' if there were the political will.
I would further point out that this is not just an issue of extreme human cost – exiting women  from the sex trade is even financially cost effective with the APPG on Prostitution indicating a 2:1 Return on Investment.
Thank you and I hope you can address the long term implications of corona and the sex trade as soon as possible.
[/accordion]